McBee Music Festival 2019 General Seating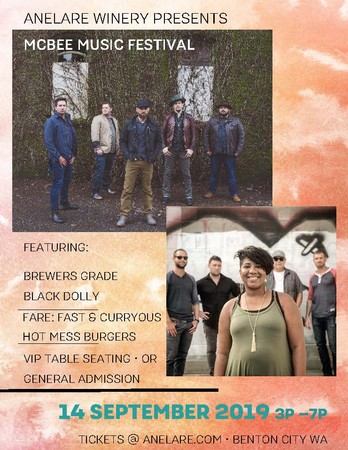 On Saturday, September 14th, 2019, local band Black Dolly will be opening for one of the Northwest's premier, up and coming Country bands, Brewer's Grade at Anelare Winery's Third Annual End of Summer Concert. Doors open at 1:00pm, with Black Dolly taking the stage at 3:00pm, followed by Brewers Grade at 5:00pm. The concert is scheduled to end just before sunset at 7:00pm. Food trucks and beverage service will be available during the concert. This year Anelare will be offering VIP table seating, a table of 8 for $280.00 with very limited availability and seat-only General Admission at $25.00 per person. Once purchsed, these are non-refundable tickets. Rain or shine :)
Brewer's Grade Band continues to blaze their own trail bringing their unique brand of Northwest Country music to the next level. Band member Joe Smart's recent Grammy win, recognizing his work on the O'Connor Band's "Coming Home" Album of the Year, has led to some exciting opportunities to collaborate with music's biggest names, including Paul Simon and Zac Brown Band. This has helped build even more momentum for the group leading to the main stage at many of the west coast's top festivals and events and opportunities in Nashville and beyond!
Black Dolly is comprised of talented, well-known local musicians Wendy and Chris Newbury, Frazer Wambeke, Eddie Ramirez and Luke Basile. Together they play soulful jams and smooth grooves from artists like Alicia Keys and Fleetwood Mac, along with their own original material.
The members of Brewer's Grade Band are life-long natives to the Pacific Northwest, including Pasco, Washington native Jose Smart. Lead singer Zac Grooms and drummer Cody Christopherson hail from Arlington, Oregon and brothers Al and Nolan Hare, The Dalles, Oregon. Because of their ties to local band Black Dolly and their love of this area, Brewer's Grade Band agreed to take a night out of their busy schedules and to play with their friends in front of a home crowd at this End of the Summer Concert at Anelare Winery…and we couldn't be more thrilled!
Tickets and VIP Seating are first-come, first serve until sold out and can be purchased on the Anelare Winery website at www.anleare.com or by calling (509) 521-8926 and 59-591-2853.