Monsignor Tom's 50 Years of Grace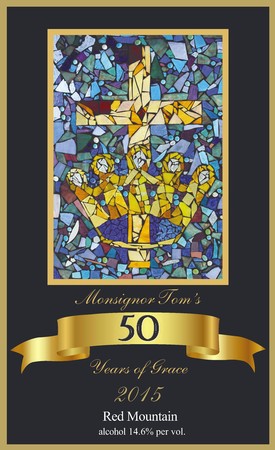 Great wine starts with quality fruit. This year poses something new and different for your palates! Anelare has sourced a beautiful variety of fruit from Red Mountain. Anelare is also blessed with one of Washington's best wine makers, Charlie Hoppes, CK parishioner. A team of teachers and school parents created this stunning label to truly represent what Christ the King is, and pay tribute to Monsignor Champoux's 50 years of service. This is a perfect combination of terroir, artistry, and management to benefit one of our area's finest schools.

2015 Monsignor Tom's 50 Years of Grace is a blend of 50% Cabernet Sauvignon, 22% Merlot, 18% Malbec, 8% Petit Verdot, and 1% Cabernet Franc from a mixture of vineyards all on Red Mountain. This wine is approachable, yet complex, with great balance and a beautiful lingering finish. Only 100 cases produced.
This wine is a perfect gift for the wine Connoisseur, holiday gifts, supporters of Catholic Schools, and a lovely tool to show the value of what Christ the King represents. Beautiful on any table. Proceeds from the sale go back to Christ the King School to benefit thier technology program.