Nov 2nd Cooking Demo by Statement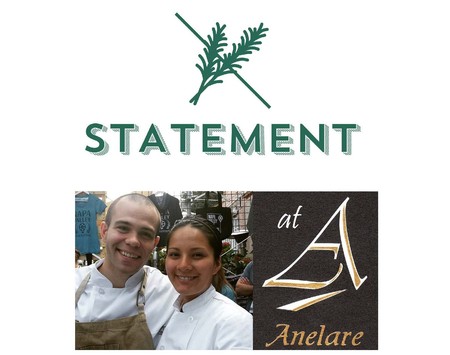 Come enjoy a demonstration of Red wine Veloute, a perfect sauce for Thankgiving accompaniments! Statement Catering's talented Chef, Eric Dohrman will teach you a new spin on one of the 5 Mother sauces to use this fall and for the holidays! You will sip on a glass while he demonstrates. The class is interactive, questions, and dialogue happen naturally! After the demo is complete, you will enjoy his creation along with a specifically paired Anelare wine. What a weekend treat!
Saturday, November 2nd beginning at noon.
Eric and Jennifer Dohrman are the chefs and owners of Statement Catering and Events. With a wealth of experience at some of the most notable restaurants and bakeries in the Napa Valley, they bring a level of cuisine that is unique among their peers in Washington Wine Country. Their passion for food and service inspired them to share their perspective with their guests, and to make each event a one of a kind experience.