Sneak Peek Winemaker Dinner with Statement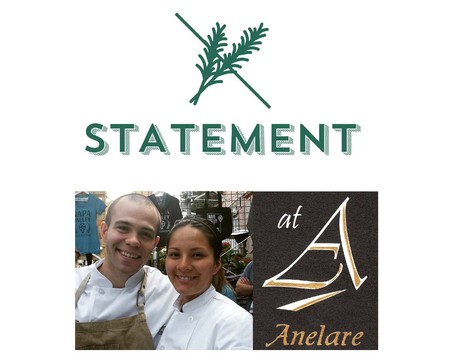 We are so eager to share our upcoming 2017 red wine vintage with you. This vintage down the line is STELLAR… so we thought, why not make it even more spectacular and team up with one of the area's top chefs? It will be an intimate evening of incredible food and wine. Some of the favorites will be back… Weinbau Carmenere, Dionysus Petit Verdot… limited seating. Get your tickets now!
Friday, August 30th at Anelare Winery- 6p
Eric and Jennifer Dohrman are the chefs and owners of Statement Catering and Events. With a wealth of experience at some of the most notable restaurants and bakeries in the Napa Valley, they bring a level of cuisine that is unique among their peers in Washington Wine Country. Their passion for food and service inspired them to share their perspective with their guests, and to make each event a one of a kind experience.
Menu
Appetizer- Gochujang Fried Chicken, compressed pineapple, soy
1st- Lamb and beet tartare, cornmeal cracker, preserved egg yolk
2nd- Bucatini all'amatriciana: hand made pasta, Guanciale compote, sundried tomato sugo
3rd- Hanger steak, charred eggplant, sweet corn, heirloom tomato relish
4th- Peach genoise, fennel and almond tuile, basil ice cream