2023 Miere Pop up Chef Dinner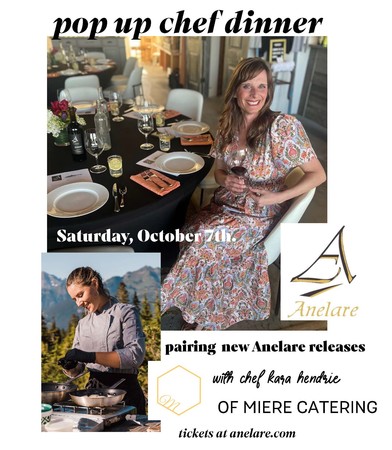 If you were lucky enough to tip back a glass and savor the dishes created last spring at Anelare, your mind will go back to this: bright colors, fresh, simple, genuine... delicious! Our passion drives us to work with chefs that showcase our local bounty in the Pacific Northwest... and we want you to salute community and fall flavors with us.
Involving friends, fruit of the land and rivers, views of Washington Wine Country. All the best in the Pacific Northwest. Chef Kara Hendrie of Miere, along with Kahryn Campbell of Anelare, will be taking us through a next level culinary experience. Pairing the new, celebrated Fall wines of Anelare!
Saturday, October 7th // 6:30p start. Bringing back our hallmark varietals this fall.
For the dinners, Chef Miere will start with a locally inspired appetizer, paired with our 2022 Rose of Mourvedre, Candy Mountain. The rest of the evening will involve 4 courses paired with the following new Anelare releases:
2022 Cuveé, Ciel du Cheval Vineyard, Red Mountain
2020 Syrah, Gamache Vineyard, White Bluffs
2020 Merlot, Ciel du Cheval Vineyard, Red Mountain
2020 Cabernet Sauvignon, DaLee Vineyard, Red Mountain
*menu below // limited seating // club wines will be ready for you to take with you
Chef Kara Hendire // Since being trained in traditional culinary skills at Metro Bis in Simsbury, CT, Kara has delighted countless with her culinary artistry while working at numerous restaurants throughout the country for the past 9 years.
Currently, she operates Miere Catering full time along with additional trips to Alaska to work as chef aboard the Alaskan Grandeur M/Y.
***menu coming soon!!