2023 Royal Coachmen Pacific Northwest Fresh Chef Dinner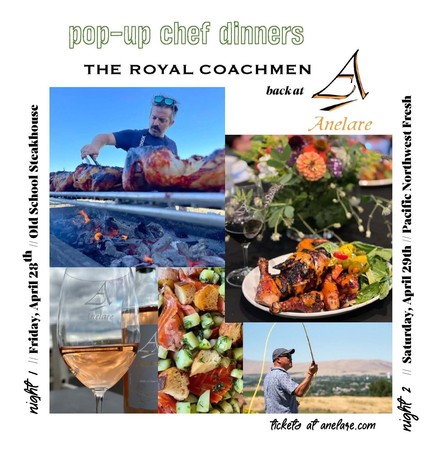 If you were lucky enough to tip back a glass and savor the dishes by the RC last year, your mind will go back to this: bright colors, fresh, simple, genuine... delicious! Our passion drives us to showcase not one, but two incredible evenings this year... and we request your company!
Involving friends, fruit of the land and rivers, views of Washington Wine Country. All the best in the Pacific Northwest. Chef Doug Adams and James Park of the Royal Coachmen, along with Kahryn Campbell of Anelare, will be taking us through a next level culinary experience. Pairing the new, celebrated Spring wines of Anelare!
Night 2 // Saturday April 29th. 6:30p start. The theme // Pacific Northwest Fresh
The Royal Coachmen will start with a locally inspired appetizer, paired with a selected Grand Fir beer, brewed by Doug's wife, Whitney Burnside. The rest of the evening will involve 4 courses paired with the following new Anelare releases:
2022 Rosé of Mourvèdre, Candy Mountain
2022 Cuvée, Ciel du Cheval, Red Mountain
2020 Sangiovese, Ciel du Cheval, Red Mountain
2020 Carmènére, Weinbau, Wahluke Slope
*menu to come soon // limited seating
The Royal Coachmen: Founded by James Park of Red Truck Fly Fishing & Chef Doug Adams (Bullard, Holler, and Bravo's Top Chef), The Royal Coachmen brings people together, in monumental locations throughout the West, over food and fly fishing.
The Royal Coachmen is a dining and event series that celebrates the outdoors, fly-fishing, and community. Founded in 2022 by James Park and Chef Doug Adams, The Royal Coachmen series has set out to create unique experiences by mixing premiere culinary artistry with scenic blue ribbon fly fishing locations. At its essence, The Royal Coachmen is about bringing people together – chefs, brewers, guides, local fishing experts, wine makers, and guests in creating a one-of-a-kind experience.