RSVP Carte Blanche & McBee Club Spring Release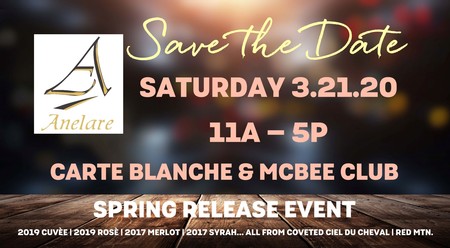 POSTPONED due mandated health restrictions with COVID-19. Stay tuned for a date to come!
Event menu for Thai Co. Iron Wok:
Choice of Meats for Entrees: Chicken, Beef, Pork or Tofu
Phad Thai: $12.00 Rice noodles, stir fried with eggs, bean sprouts, & ground peanuts.
Phad Kee Mao: $12.00 (Drunken Noodles) Rice noodles, eggs, white onions & bell peppers.
Pineapple Fried Rice: $12.00 Fried rice in yellow curry powder with pineapple, eggs, raisins & cashews.
Chicken Satay with Peanut Sauce: $7.00